Movies I worked on: "Ted" and "People Like Us" open today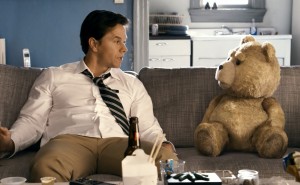 Two recent movies I cut broadcast spots for premiere in theatres today.
"Ted" is Seth McFarlane's first major motion picture directoral gig and I can now say that the movie is insanely funny!! It's been tough these past few months trying to keep my mouth shut about it, especially around Rebecca. We are both huge "Family Guy" fans and I knew she was going to love it....if we could just get to opening day where I wouldn't have to keep a lid on things anymore!
We'll be heading to the new Arclight Beach Cities tomorrow night for the movie while trying out a new restaurant in the Long Beach area. I have the finished broadcast spot to post but need to wait until Monday because it's quitin' time and my weekend begins NOW!
The second is "People Like Us" starring Chris Pine and Elizabeth Banks. In the film, Chris' dad dies and leaves $150,000 for him to give to a sister he never knew he even had. Deep in debt and estranged from his mother, Pine's character struggles with how to connect with his new found sibling. The movie can be sweet and definitely crosses into chick flick territory. However we're in no big rush to see this because we have so much else going on at the moment that takes precedence. I hate to say it but part of the reason is because it's more of a rental.
June has seen me immersing in a couple of Fall releases at work, including "Gangster Squad", orbiting briefly into the next "Resident Evil" and more recently "Taken 2" which I am working on right now. The summer has definitely heated up with multiple projects in house or about to drop. My involvement will pause for a week when our vacation trip, 'The Farm, The Field and The Tower' begins in a little over 7 days!!