My January Q&A feast: Gary Oldman, Michelle Williams, Kenneth Branagh and (yes) Mel Gibson!
January has become a major month for top line Q&A screenings.
The Arclight is having a special week honoring Gary Oldman with his films "Sid and Nancy", "JFK", "The Contender", "Prick Up Your Ears", "Dracula" and the new "Tinker, Tailor, Soldier, Spy". For this movie on the final night, I learned that Gary Oldman would be doing a special Q&A.
Gary Oldman? Q&A? I HAD to go!!!
Quickly I got on the website to RSVP free tickets (click on the image to be taken there) and found myself in luck that it had not sold out yet (it is now).
Pass through the end of the last week of 2011 and into the new year.
Rebecca and I are on our way to see "The Adventures of Tintin" this past Sunday when suddenly a Facebook message comes in from our friend Paul. He asks about trying to get together for a movie night or two before he and his wife Emaly move back to Australia in less than two weeks from now. I met him at the "Back to the Future" 25th Anniversary event a little over a year ago. In the message he also just happens to mention that he'll be attending a "Mad Max" triple feature screening plus a Q&A with Mel Gibson!
What, what, what, WHAT??!!!
O.K. yeah I know, Mel's integrity and moral standing is in very low regard these days and I completely understand why. But c'mon!! This is the man who personified The Road Warrior!!!
As we walked into the theatre where "Tintin" was screening I quickly pulled up the
American Cinematheque website
on my iPhone, hoping and praying the Max-fest had not sold out yet. This is at the Egyptian Theatre location of the AC, BTW. With the quick stroke of a few virtual buttons I found myself happily on the way to the finish line of buying tickets. YYYEEESSS!!! We were IN!!!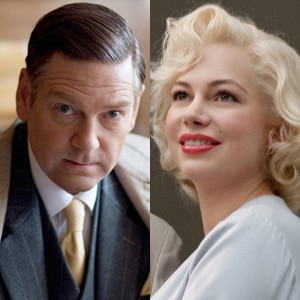 But wait, what's this? January 11 the Egyptian was also screening "My Week with Marilyn" plus a Q&A with Michelle Williams and Kenneth Branagh. AAAAHHHH!! Quick, buy more tickets!! Not sold out....SWEET!!!
However, quick excitement about our triumphant movie-going coup turned into a minor 'whoops' twenty four hours later. Turned out the "MWWM" screening was the same night as the Gary Oldman Q&A. Taking into account that we'd just seen "MWWM" in the theatre (plus the fact that I'd recently worked on it and practically knew the move like the back of my hand) we opted to stick with Oldman for which I had quite a bit more excitement for.
Yes, Michelle Williams will undoubtedly go home with an Oscar for her role as Marilyn Monroe, I have no doubt....as might Kenneth Branagh for his perfectly spot-on take of Sir Laurence Olivier. These were even more reasons why I hated to bag out of this event! But Oldman and another critically-praised new movie won out.
So Rebecca will be heading to the Arclight much earlier than the 8pm start time for tonight's screening because it's general admission. That's right, no reserved seating as I've become so accustomed to. There could be a healthy line and I want to make sure we get the best seat possible! When I get out of work at 6 (I already cleared with the powers that be here that I HAVE to leave right at 6!) I'll be heading there as well to meet up with her.