AT LAST!!: The Sepulveda Dam / "Buckaroo Banzai" movie location
Back in 2003 while driving on the 101 freeway and beginning to look for an apartment out here, I came upon a wonderfully familiar landmark: The Sepulveda Dam. It's located at the busiest freeway interchange in the United States and this is the place where the end credits sequence to one of my favorite movies of all time was shot. The place where Buckaroo Banzai repels down the structure's concrete incline to be joined by members of the Hong Kong Cavaliers and walk the walk in time to Michael Boddicker's iconic theme.
I remember I was actually on the phone with my friend Maria when the trees gave way to a very expansive view of the dam area. I was so excited to lay eyes on this gem of a movie location that it became my mission to find out how to get down there. Little did I know it would actually take a few years to finally figure that out and arrive at the spot.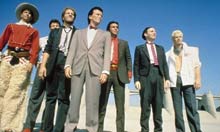 The dam was built by the U.S. Army Corps of Engineers in 1941 and is owned and operated by that military organization to this day. My main concern was how to actually get on the property and if that was even possible. I was certainly aware that, beyond "Buckaroo Banzai", numerous commercials, music videos and other feature films (including "Iron Man 2") had filmed there. Would I need permission? Would I need a permit? Then in time, the question became how do the kids on bikes I keep seeing get down in there? There was a gate at what appeared to be the main and closest entryway. However it was pretty easy to just walk around, even though a somewhat worn out sign said 'no trespassing'.
Part of the reason why this was taking so long was because I was either busy with work or had put in in the back of my mind for a time. Suddenly I got it in my head one day to call the LA Film Commission. Posing as a scout for an independent film looking to shoot at the dam site, I asked how I could gain access. Quite easily, I was informed. I could 'scout' the location on my own anytime during daylight hours during the week and even on weekends depending on what personnel were there. Now I knew the score, but was still trying to find the right day to go.
So finally I decided to just go for it on a Saturday afternoon and cautiously walk past the 'no tresspassing' sign. No one was around until suddenly I was aware that two guys had also just walked around the gate and were walking the long driveway behind me about fifty feet back. I decided to ask if they worked there and was told that they often hike the grounds and that some people actually know that it's fine to just ignore the gate warning. Awesome! I was in and everything was cool! Plus, it was apparent that I didn't need to contact dam personnel, who weren't really there to begin with.
Turned out these two guys were scouting the location for a music video to be shot there in the following days. We talked about their project and what I did in the industry, parting ways once we reached the actual damn. Here I was, actually standing right in front of one of my most prized and sought after movie locations! At the last minute I had the forethought that when these guys walked away I wouldn't be able to get a photo of myself from a distance. Rebecca was in Scotland and I was pretty much on my own. They were happy to snap a couple of shots.
I popped in my iPod earbuds and cranked up the end title track from the "Buckaroo Banzai" soundtrack. Suddenly I felt like I was a part of that scene because the sun was right about at the same angle it had been in the movie. Not something I particularly planned, just a happy accident based on wanting to take the best daytime light photos.
A few moments later after the two scouts left, about 12 kids on bikes flew down the dirt road and onto the flatbed concrete where I was. At first I was a little nervous because I was now the only one there and this place is a little remote, even though the 101 and 405 freeways are within sight. They glanced at me and flew by on their way to the top of one of the dam inclines to just hang out and ride up and down the expanse. So I put the music back on and continued to take photos.
This place looks almost exactly the same as when they shot "Banzai" here in 1984, with the exception of a few areas of graffiti that had been painted over. As the end credits track continued in heavy rotation I suddenly decided I HAD to do the Banzai walk, just like how they did in that sequence. I cranked up the iPod and proceeded to strut over to the wall where the name 'Buckaroo Banzai' had been tagged on the wall that the entire crew walked by...the last image in the movie.
These are some of the moments I truly savor; taking in a movie location that is so near and dear to my heart. Especially when it looks just like a scene in a movie. Even though it was pretty hot and I was out there all by myself, I actually had a pretty awesome time taking everything in. Some people might say 'hey, it's just a dam'. But to me it's another reminder of my passion for movies and even one of the reasons why I'm here in LA.
Click on the top photo to be taken to the Flickr photo set of my visit. Enjoy!