Enchantment Under The Sea Gala tonight!
Rebecca has been wonderful with going to thrift stores this week to find all the components for our 1950's high school dance outfits. Tonight is the grand finale to the week long "Back to the Future" 25th Anniversary event, this time at the actual filming location of the Enchantment Dance; the gymnasium at the United Methodists Church in the heart of Hollywood.
We're very lucky to be attending thanks to Ken the coordinator; his gift for all the work I did on the locations tour clips for the bus, the 25th Anniversary trailer, as well as helping to get things in place for the screening of John's documentary at his house in South Pasadena. Regardless of the size and scope of tonight's event, it will certainly be amazing to finally step inside the place where George and Lorraine kissed for the first time on the dance floor accompanied by their future son, Marty, playing the guitar and slamming into 'Johnny B. Goode'. Not to mention the back stairs where Marty said goodbye to his future parents! I'm sure the entire place will be decked out like it was in the movie, plus this is the center point where all of the celebrities and people who worked on "Back to the Future" will be in attendance to mingle with the fans and sign autographs.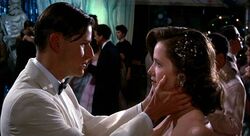 At 10:04pm there's suppose to be a speeding DeLorean which will hit a suspended cable to simulate Marty returning to 1985. Both Rebecca and I will be decked out in 1950's finery to hit the gymnasium dance floor, have the BEST time(!), and maybe even bump into George and Lorraine. But we don't want to bump too hard because they might not kiss and that would spiral everything out of sync once more....so we'll CAUTIOUSLY bump into them.
This weekend I'll be pulling together all of the photos and videos (yes, videos!) to post on Flickr in one gi-normous set. Wanna stay timely with getting these up right away so expect results! Stay tuned!