And now those proper, all-important anniversary acknowledgments!
Celebrating the 35th anniversary of "Jaws" this past June 20, I still remember going to the Towne Theater in Latham, N.Y. two weeks after it's release where the screening was actually over sold. Close to movie time, an usher accompanied a young man with a Scottish driving cap to the front of the auditorium where he positioned a stool right next to the left wall. This would be the guy's seat, something you'd never see today! The audience chuckled slightly right before the lights dimmed and the ominous two note theme began under the Universal logo.
It amazes me, when I think about it, that I was only 15 when this came out! Even thought the movie was pretty scary, I still went back 5 more times that summer of '75 to see what would become a major game changer in Hollywood. The summer blockbuster was born. I went right out and bought the soundtrack on LP, and later picked up both making-of books, "The Jaws Log" by Carl Gottlieb and "The Making of the Movie Jaws" by Edith Blake.
This was one of the few films where I actually read the book before seeing the movie. For anyone whose read Peter Benchley's original, you were probably as much surprised as I was when suddenly we were heading out to sea with Quint instead of the mob subplot and Matt Hooper's affair with Ellen Brody that took up much of the middle of the novel. In fact I didn't mind that at all because the story kept it's focus on what was most important; hunting the shark.
When "Jaws" finally came to home video, I pretty much bought every version after that; VHS, Laserdisc, and big honkin' 30th anniversary DVD. I have one more thing I'd like to do at some point. Finally head to Martha's Vineyard to check out the filming locations. In 2005 there was a Jaws Fest to commemorate that anniversary of the movie as well as a promotion of the all encompassing DVD release. Still kicking myself that I didn't push myself to go, but hope at some point they'll do it again. Perhaps for the 40th in five years...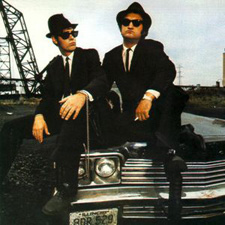 Also released on June 20, I saw "The Blues Brothers" at Hellman's Theatre in Albany, N.Y. 30 years ago this week. All of us didn't know that we were seeing one of the last performances of John Belushi before his death two years later, but the movie would become a true icon, directed by John Landis who was fresh off of the success of "Animal House". Not just a comedy, the movie was also a musical and an action film all rolled together.
But beyond Jake and Elwood was the Bluesmobile, musical guests like Ray Charles, Aretha Franklin, James Brown, and Cab Calloway, comedy greats like Henry Gibson and John Candy, and the city of Chicago that all played a major part in expanding the scope of the balls-out humor that drove the boys to a show that would save their orphanage from closing. And I guess in a sense this was actually the re-introduction of the movie musical that had been dead for so long. That same year, in fact one month after "The Blues Brothers" was released, MTV would take hold, and a different form of the musical would re-emerge.
Time to click on the projector in The 10th Box this weekend for anniversary screenings of both these films, remembering what it was like to see them for the first time at those now closed movie houses back in Upstate New York.
"You're gonna need a bigger boat."